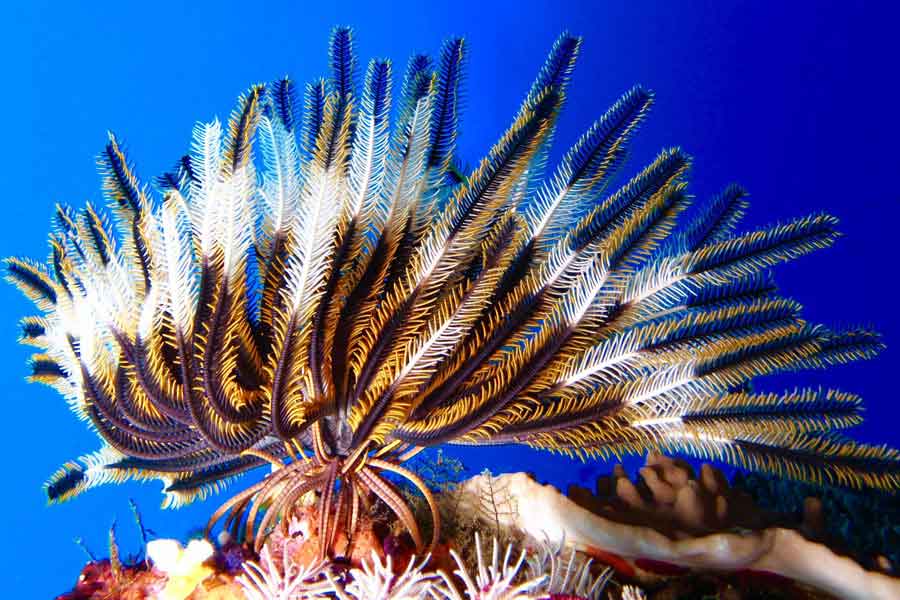 When we think of a starfish, we imagine a flat animal with five radial arms extending from a rudimentary body, which is little more than a simple digestive apparatus, crawling along the seafloor in search of a bivalve to feed on.
That's what we think until we encounter a crinoid star for the first time, one of the most beautiful creatures to grace the sea. These stars can have up to 200 arms that resemble feathers, and these arms are so soft and fragile that they sway rhythmically with the gentle ocean currents.
Crinoids are stars that have evolved their form and feeding habits to become fishing animals. With their outstretched arms and their small body attached to the coral that forms the reef, they manage to capture some of the millions of microscopic plants and animals belonging to the plankton that are swept along by the current.
Typically, each arm is lined on both sides with a row of short, sharp twigs that resemble fern leaves or lily petals. Along the hairy line of each twig, there are extremely fine tentacles, barely larger than the plankton. When these tentacles detect the touch of a microscopic planktonic algae or animal, they quickly bend inward, bringing the food to the mucous part of the attached arm. Then, the collective effort of thousands of tiny tentacles will drag it along the arm until it reaches the star's small body. It is believed that this feeding system was used by all primitive stars.
The crinoid star was not always attached to the substrate. In its embryonic stage, it swims with the help of small tentacles, gently moving with the ocean currents. However, as the skeleton plates begin to form, the embryo gains weight and settles on the seabed, becoming attached to it. Crinoid stars, which live where sunlight reaches, often have beautiful colors that may not be surpassed by any other marine animal. They can be bright red, purple, orange, green, golden, white, or even iridescent.
This color does not seem to serve an apparent purpose. The prey it captures cannot avoid it even if it had less flashy colors. Most predators disregard its small protein-poor bodies, and apparently, it neither benefits nor suffers from a particular tone or color. Perhaps it is beauty for beauty's sake or the mischievous hand of Poseidon on a romantic day.
If a diver fixates on the lethargic swaying of the beautiful arms, they immediately feel captivated by an absolutely seductive and hard-to-explain sense of peace. But if they try to touch it lightly, they will notice its extreme fragility. Life has dressed up, unveiling its finest attire. After all, feathers are not an exclusive privilege of birds, and not all stars only shine in the sky.
"You cannot defend what you do not love, and you cannot love what you do not know."