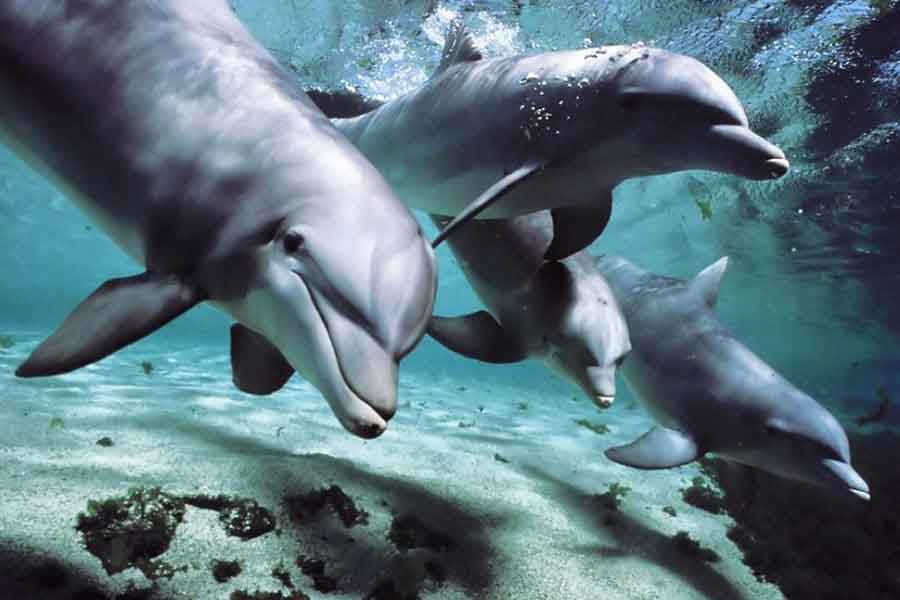 Unlike humans, dolphins have voluntary respiration. That means they have to be conscious when they breathe and give the command to their bodies to do so. That's why dolphins cannot undergo surgery because if they were anesthetized, they would simply drown from not breathing.
For the same reason, dolphins cannot sleep the way we do. When humans immerse ourselves in sleep, we "shut off" our brains while our involuntary breathing settles into a slower, deeper rhythm. Dolphins, having to command their bodies to breathe, cannot "shut off" in this way. On the other hand, if their brains were completely blocked, they would be at serious risk of becoming easy prey for predators. However, rest is essential for the survival of any species.
When dolphins sleep, they only shut down half of their brains. The other half remains alert for breathing and ready to flee in the presence of an unwanted visitor. At night, dolphins sleep by floating vertically on the surface, like a heavy wooden stick in the water, with only their blowhole exposed for gas exchange. However, nights and such light sleep are not enough for an animal that expends so much energy in obtaining daily food. That's why they often take long naps, in fact, dolphins spend almost a third of their time resting.
Recently, in the Red Sea, south of the Sinai Peninsula, I had the opportunity to witness a true nap of a group of about nine bottlenose dolphins (Flipper). The lethargic group moved almost imperceptibly over a sandy bottom at a depth of about nine meters. The animals were closely bonded together, and in the middle of the group, protected by the adults, were two small calves. They followed a circular route of about 500 meters in diameter, always passing through the same place very slowly. Their eyes were not completely closed, but rather turned into expressionless slits.
Every six or seven minutes, the group ascended lazily to the surface, took a fresh breath of air, and with the same languidness, returned to the sandy bottom. Undoubtedly, the slow movement allowed them an interesting muscular rest, but part of their brain had to remain attentive to coordinate breathing, follow the predetermined route, and stay together. Meanwhile, two juveniles roamed around the resting group. They moved more agilely around the clan and even approached us, sniffing our cameras. They were probably "guards" patrolling the surroundings, ready to alert the group if any enemy approached.
To float silently in the sea, breathing through a snorkel just one meter away from a family of dolphins taking a nap is one of those experiences that reconcile us with life. But what struck me the most at that moment is that the "guards" didn't alert the sleepers to our presence; they never considered us a threat. They even approached us with childlike curiosity, looking directly into our eyes, baring our excited souls.
"You can't defend what you don't love, and you can't love what you don't know."